Whether you need a quick overview, a side-by-side fund or portfolio comparison, or a deep dive into performance and attribution results by security level, our report hub links together performance, attribution, weights and market intelligence to display accurate and insightful returns.
Reports can be customised with a mix of tables, graphs and explanatory text, and easily exported as Excel sheets or PDFs. We can even provide historical returns broken into periods to show portfolio positioning over time, giving you total clarity on your fund performance.
Our aim is to help you tell your story
We have found that transparent performance can add a lot of value to the fund management process. The ability to see a quick overview and comparison between funds or to quickly dig down to the security level in a particular fund to investigate its performance can bring helpful insights. We provide three ways to report performance and attribution results to make these investigations easy. All aim to give you the quickest way to understand your portfolios' performance by linking performance, attribution, weights and market intelligence.
Clear, easy to use web reporting
Our web reporting is designed to help portfolio managers and the client team quickly dig into the results to understand what has been driving the returns. We provide historical returns broken into periods, here we can also show portfolio positioning through time. We also provide a single period overview giving quick access and an overview as well as detailed reporting. We also give the user the ability to make quick comparisons between portfolios over any period.
Flexible PDF and Excel reporting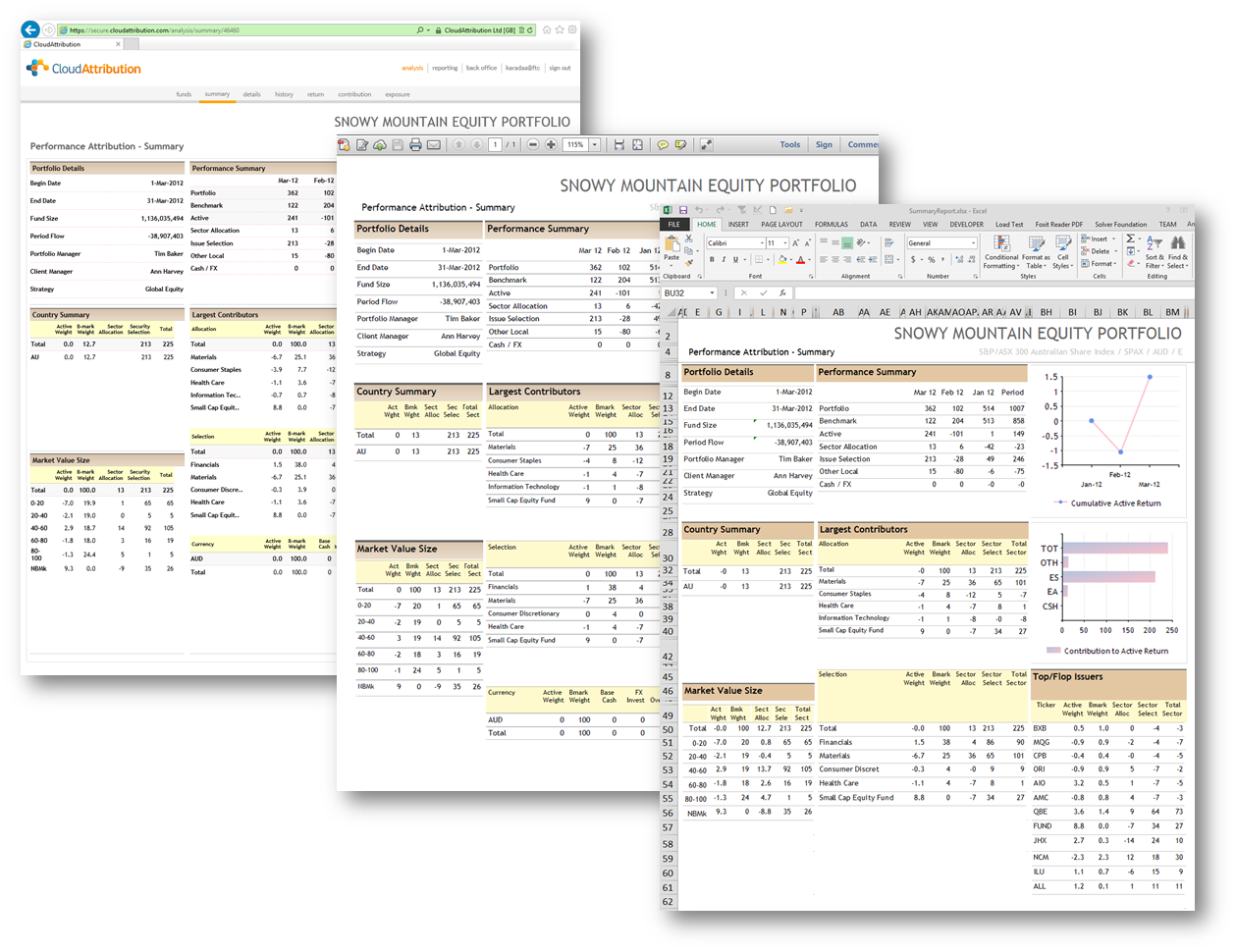 Our report hub aims to add flexibility to our reporting. It allows users to create reports in PDF or for Excel export with the ability to recreate any reports that you currently use. Reports can have some customization at run time and mix tables, graphs and text to provide beautiful and informative output.
API maximum flexibility
With our API you have full access to the data: use our custom Excel functions to pull information directly to Excel or link it to another reporting engine to provide it with the data you need. Our tokenised access keeps the process of using the API straightforward but maintains the same high level of security. Get in touch with our experts today to find out more about how we can help you.